SelectUSA : Succeed in the U.S. Market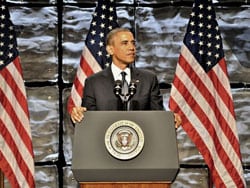 Ambassador Vinai Thummalapally is the Executive Director of SelectUSA. The United States  is open for business, and the U.S. government is taking steps to make it easier for companies of all sizes to enter the market, succeed and create jobs.  President Barack  Obama recently announced the expansion of SelectUSA, the first U.S. government-wide program to promote and facilitate foreign direct investment (FDI). Please consider us to be at your service.
 If entering or expanding in a new market were easy, everyone would do it.  Given the diversity of markets across the continent, European companies inherently understand the challenges—and the opportunities—that large, diverse economies represent.  The U.S. market, with a GDP of more than $15 trillion and a population of more than 317 million, presents similarly diverse opportunities so that a wide variety of companies can find the consumers and the employees they need to thrive. 
Success in the U.S. market can help drive success globally – free trade agreements with 20 other countries give exporters access to another 425 million customers.  Highly educated, productive workers; cutting-edge research and development; strong intellectual property rights protections; and lower energy costs are keeping U.S.-based goods and service providers competitive.  
 
"SelectUSA can provide information on the benefits of operating in the United States; establishing and operating a business in the United States"

The U.S. market is recognised for its transparent, fair and stable business climate – earning the top spot in the 2013 A.T. Kearney Foreign Direct Investment Confidence Index.  Nonetheless, SelectUSA aims to increase transparency by providing the information that investors need to identify opportunities that are the right fit for their market-entry strategy.    
SelectUSA can provide information on the benefits of operating in the United States; establishing and operating a business in the United States; Federal standards, rules, and regulations; sources of up-to-date market data and research; and Federal resources such as supply chain identification, workforce training, grants, loans and other programs. We can also connect investors directly with economic development organisations at the state, regional and local levels. 
But sometimes information isn't enough.  Working across the Federal Government, SelectUSA acts as an ombudsman to address investor concerns relating to federal regulatory issues.  We can assist a company to understand specific challenges, connect directly with relevant federal agencies and better understand the regulatory system.
The expansion of services to facilitate FDI was announced last month at the inaugural SelectUSA 2013 Investment Summit, which brought more than 1,300 participants to Washington, D.C., to learn about investment opportunities.  President Obama and five of his Cabinet members spoke at the Summit and made it clear that the United States government understands the essential role that FDI has long played in the U.S. economy and warmly welcomes international investors.
At the Summit, Secretary of Commerce Penny Pritzker told investors, "We know that we need to move at your pace – the pace of business.  We need to be outcomes-driven – helping more U.S. and foreign firms find the tools and information you need to invest here.  My personal commitment to you right now is that we will do just that."
Our doors are open and we're ready to help.  Please visit selectusa.gov to connect.