Business Beyond the Borders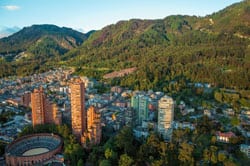 European companies have increased their overseas investments in the last 20 years, venturing further afield, outside EU borders with the EU27 stock of outward foreign     direct investment (FDI) into non-EU countries reaching €3.3 trillion by 2008. EU investors accounted for 36% of global outflows in 2011 totaling USD 557 billion, clearly demonstrating Europe's commitment to, and association with, investing abroad. According to a United Nations report, international FDI rose by 11% in 2013 to an estimated €1.06 trillion with the majority going to developing countries, highlighting, once again, the     global trend towards business expansion abroad. 
 Optimistic figures from the European Commission on November 5th 2013, predicts that GDP will expand by 1.4% in 2014, following little or no growth in 2013, indicating that modest economic recovery is underway in Europe. This, coinciding with the fact that FDI facilitates access to foreign markets and impacts positively on a firm's competitiveness, begs the question – where should European companies be looking to, to invest? A good place to start is to determine what countries are attracting international firms, promoting a healthy business environment and playing host to a large number of corporate meetings and events. 
According to a MICE market study performed by the New York City based Mercer Group, South America is a preferential spot for corporate events, and Colombia has moved up three places in the ICCA 2012 Country Rankings. Coming in at a respectable 29th place with 138 qualifying meetings, Colombia is the country to consider. Add to this that tourism in Colombia is growing at an average of 8% per year, far above the global growth average, with Bogota's El Dorado International Airport handling nearly 310,000 national and international flights and almost 23 million passengers in 2012, and it Is clear that this encouraging acceleration shows no signs of braking.
Unsurprisingly, its wealth in oil, gas and minerals are a major pull and UNCTAD's World Investment Report 2013 announced a 12% increase in inward FDI to South America in 2012, bringing the figure up to $144 billion, proving that this continent sure is a good host!  South America has a growing reputation as a pivotal centre for global culture, organising the world famous Carnival in Rio de Janeiro and hosting both the Brazil World Cup in 2014 and the Rio Olympics in 2016. But don't be fooled – this location offers much more than just festivals and football. 
The future continues to look bright with the drop in the peso encouraging steady growth in 2014. Colombia is one of the main South American countries bolstering the economy, offering business–friendly policies and providing a safe domestic security set-up. According to the World Bank's 'Doing Business 2014' survey, Columbia ranks 43rd out of 183 countries, as it continues to refine its image, improve its economy and dispel incorrect information about Colombian culture.
The capital of Columbia, Bogota, is an exciting and inspired city, positioned in 42nd place in the ICCA's city rankings and with the Colombian airline Avianca launching a direct service between London Heathrow and Bogota this summer, the number of business travelers is set to increase even further. The Globalization and World Rankings Research Institute positions Bogota as a 'beta level city' – a tag given to cities that are globally significant and are influential in the world economy and the U.S.-Colombia Free Trade Agreement that came into force in 2012 should help boost growth even more.  In February 2014, the Business Matchmaking Forum, a prominent event to facilitate business associations, hosted a total of 1,228 international buyers and 2,734 national exporters in Bogota, signifying the city's growing role in global markets. 
Bogota offers numerous investment incentives including free trade zones, income tax deductions and local tax exemptions. In excess of 1,300 major companies operate in Bogota including global giants 3M, Hino, IBM, SAP, Siemens, Sony and Unisys. Add to this the strategic location, the skilled workforce, the competitive operating costs, the attractive business incentives, the high quality of life, the established company success stories, and the only thing you are left wondering is how it has taken you so long to acknowledge this location in the first place! 
Bogota has undergone significant social and urban development in the last 10 years and represents 25% of Colombia's GDP with direct access to the US$369 billion Colombian market. The government is resolute on economic improvement, so the next 10 years promise to be just as exciting. Bogota is in great shape and has huge strength in its economic muscle. 
Hurry up – the secret is getting out. 
Need to know : The Bogota International Convention Center has a 4, 500m2 exhibition space, several rooms for events of different sizes, a main hall that can facilitate 4,000 seated people and a food and drink area to cater for various events. 
Contact The Bogota Convention Bureau and Invest in Bogota to find out about business in the capital.