Cloud Computing Changing the Game for Small Businesses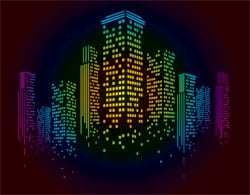 Small businesses looking to improve efficiency are increasingly finding that every cloud has a silver lining. Indeed, cloud computing, which is IT jargon for accessing applications as services over the internet, is becoming a game changer for many small companies, allowing them to access a growing number of innovative services that are easy to manage, provide transparent pricing and will scale up as a business grows.  In addition to embracing cloud computing, small companies are also using Skype and video conferencing to boost their responsiveness, support consultants working in the field and expand the business.
Cloud computing was once mainly for storing data, but now it can also be used to run applications and software remotely. With the promise of every possible IT resource being offered as a service, coupled with incentives like lower costs and service-level guarantees, organizations have started to embrace the cloud wherever possible. Cloud computing offers attractive and compelling benefits in terms of reducing capital investment. For a small businesses, outsourcing IT to the cloud also lowers the need for specialist skills and liberates managers to focus on the core business. 
Hosted desktops supported by cloud technology are one of the most important services now being adopted by companies to enable their consultants to work smartly and effectively from any location.  Using a hosted desktop, consultants have access to all of their files and databases while on the go. This means they can respond rapidly to clients. It also means they can work more productively, updating projects without having to return to the office and making use of down time when, for example, commuting on a train. 
Using hosted desktops in combination with video conferencing or Skype also allows a flexible and remote workforce to function from any location, improving workforce productivity and effectiveness as well as eliminating the need for big offices that are costly to run. When a company outsources all data and IT systems to a managed service provider, it no longer requires any servers in the office or has to manage software licensing or administration issues.  The latest software and security will also be provided, and having top quality IT at an affordable price could assist new business development and growth.
"Hosted desktops supported by cloud technology are one of the most important services now being adopted by companies to enable their consultants to work smartly and effectively from any location."
WorkPlaceLive is a pioneer of hosted desktop services. Over the past few years, the company has evolved from being a traditional IT service company to a progressive leader in cloud computing. In 2011, WorkPlaceLive added an additional data centre to provide the additional resources to meet the demand of their growing business and as part of their application to become G Cloud (government) certified. In 2013, it acquired Cirrus Stratus, a company that specialises in hosted desktops, and it has also recently launched a Voice-over-Internet Protocol (VoIP) service.
According to David Sturges, Chief Commercial Officer at WorkPlaceLive, companies are to set to further benefit from hosted desktops that incorporate packages such as VoIP, which allows people to make telephone calls using a computer network over the Internet, and video conferencing.  Sturges says that this can support expansion, especially overseas and can save companies money on phone calls as well as reducing the need for face-to-face meetings. 
When it comes to making the move to cloud computing, the principal concern for most small businesses is security. By accessing services over the internet, information may be accessible by unknown people and organisations, possibly including business rivals. So, there are issues regarding the safety of data. However, with reputable cloud suppliers, there is no need to worry. Indeed, the level of security offered by a cloud supplier employing experts that follow the latest developments is generally superior than most small businesses can manage by themselves.
The way things are going, even the home office will soon be able to function in the same way as large corporate offices. An increasing number of companies and workers are seeing the benefits of telecommuting, and this will help smaller recruitment to expand more quickly because it can save overheads and office costs. Moreover, if companies decide to promote home working, they will be able to access a wider talent pool, including mothers or people with disabilities who are unable to commute into offices. 
With mobile phones set to overtake PCs as the most common device for internet access and tablet sales catching up with laptop sales, businesses need to consider how they can offer their employees the ability to switch between devices and bring their own devices to work. In the future, it will become more usual and easier for employees to use multiple devices for work and ensure data security. Using a hosted desktop provider means that data is not stored on any devices but rather is securely stored at the datacentre of the provider. Information is kept centrally, which lessens the security risks if laptops or tablets are stolen or lost.  
The future will see improved connectivity and interoperability between software packages and clouds, so that they will all communicate with each other, and the use of multiple clouds will not be unusual.  The way people are using technology is changing and it will become impossible for businesses to ignore cloud computing in the future. IT departments will also find it more and more difficult to keep pace with the advances in technology. Those that embrace the cloud will make sure they not only remain competitive but have access to the latest technologies and ways of working. 
In its recent report Unleashing the Potential of Cloud Computing in Europe, the European Commission says that it thinks cloud computing can drive €900 billion worth of additional gross domestic product growth and create 3.8 million new jobs in the European Union by the end of the present decade. The report claims that if privacy rules are clarified, national laws are harmonised, and cloud services are standardised and certified, public-sector cloud spending would grow at a 38.3% compound annual growth rate reaching nearly €80 billion in 2020.