Barents RE Finds its Niche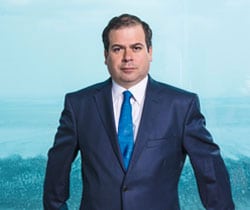 One of the world's foremost independent reinsurance groups, Barents Re offers a range of services linked to the structuring and execution of reinsurance and other forms of risk transfer. It is one of the world's premier specialty reinsurance groups, with a particular focus on large products and specialty financial risk structures. Customers include most of the world's major insurance and reinsurance companies as well as financial institutions and global corporations. Here, we interview Barents' chief underwriting officer Gerardo Garcia, who has over 18 years of experience in the insurance and reinsurance market and has been an advisor for several insurance companies and reinsurance brokerage firms.
1. Barents Re might not be a name that is familiar to everyone on this side of the Atlantic. Can you give us an overview of the company's history?
In 2011, Barents Re started expanding in Europe, opening offices in Paris, Rome, Madrid, and London and Moscow. At the end of 2014, our biggest single market was Europe, a market that is providing us with significant growth and vast opportunities. We are active in most of Europe and are developing a strong presence in the continent.
2. What are your main areas of business and what is your geographical reach?
Our global strategy is organic premium growth and geographical diversification; we focus on our main line of businesses such as: Energy, Bonds and Specialty Lines. We offer stable capacity and tailor made products in each of the territories we operate. Barents Re has a well-established presence in Latin America, Europe and in the Middle East North Africa Region (MENA) and operates from a network of offices in Panama, Miami, Paris, Beirut, Madrid, Rome and London. This translates into more than 500 reinsurance connections worldwide.
3. Barents Re combines investment in traditional fixed-income securities with a focus on alternative investment classes. How did this strategy come about?
The combination of higher-grade bonds tailored to underline insurance liabilities, with an allocation to alternative investments, allows us to achieve our long-term investment goals while assuming the least amount of risk via portfolio diversification. We focus on alternative investment classes due to their ability to provide absolute returns regardless of economic, inflation, or stock market conditions. This investment strategy has been crucial for maintaining our strong financial position and generating consistent returns while reducing the volatility in our portfolio.
4. Has the reinsurance industry come under pressure following the crises of recent years. How can companies like yours achieve growth amidst the current pressures and challenges?
Yes. Even though the reinsurance industry as a whole is facing tough times, Barents Re is a niche player in specific reinsurance segments with a very wide geographical footprint. That approach allows us to operate in niche segments where the competitive environment is weaker and where, consequently, there are better margins.
5. Barents Re has come a long way in recent years. How do you see it developing over the next decade?
Barents Re is in a phase of consolidation, centralising its diverse operations. We expect to gain synergies and expand our business portfolio as brand awareness increases our local presence in Europe and MENA and our footprint becomes more prevalent. Furthermore, we have always been committed to providing the highest level of service to our clients and brokers, which we believe is critical to our ability to build and maintain long-term relationships and ensure our continued success.
Please visit : www.barentsre.com