Real Fears – The Storm Ahead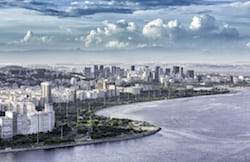 Brazil, a potential powerhouse with a once-booming economy, is plagued by political tensions and fiscal anxieties. Has the boom gone bust?
Up until recently, the mood in Brazil was teeming with expectation. The economy was expanding three times faster than that of the United States, poverty was decreasing and the high level of job creation was encouraging. The plan was to become one of the next world economic powers, with Rio bolstered into the public sphere after being granted the 2014 World Cup and the 2016 Olympics. What better way to promote growth and development than to host such celebrated events that would also serve as a christening of fire of sorts for such a promising country? However, in 2015, unemployment, recession, inflation, scandals, debt, a lack of international confidence and currency devaluation have hit the country hard. 
Unemployment in Brazil is soaring to its highest rate since 2009, recorded at 7.6% in September up from 6.9% in June 2015, and it is set to continue rising through to next year. Joblessness is intensifying and above-target inflation is eating into real wages, decreasing consumption. Even as recent as last year, Brazil had a $2.35 trillion economy, the seventh-largest in the world. Now, the country is plunged into a recession, and FDI is down from $39.3 billion in the first five months of 2014 to $25.5 billion in 2015, with widespread uncertainty scaring investors. Lower international demand and dropping commodity prices have had a huge influence on Brazil and demand from China has also fallen. The 2016 Games that were once the ballpark for global recognition, are fast approaching, and likely to cost in excess of $10 billion. Like Brazil, they too face an uncertain future. 
The Brazilian economy grew by approximately 2.2% a year during President Dilma Rousseff's first term in office in 2011 – 14. The state of play is very different in 2015. The IMF said that Latin America's largest economy will shrink 3% in 2015, with inflation rising to approximately 9.5%, well above the central bank's target of 2.5-6.5%.  Having lost its investment-grade rating from Standard & Poor's due to dismal forecasts, investor confidence is at an all-time low. Rate increases in Brazil in the early noughties also drove inflation rather than curbing it, but back then prices were regulated because of the fiscal restraint of Luiz Inacio Lula da Silva. Brazil, in its current crisis of high deficits and high inflation is suffering from fiscal dominance, where the economy is stagnated, and yet inflation is creeping upwards and rental prices are growing by over 1.2%.
The extent of Brazil's financial chaos has fundamentally impaired the central bank's power to fight the price hikes and consumers are feeling the pinch of high inflation and increased interest rates. The central bank has been forced to abandon the original plan to reach the 4.5% inflation target by next year; making it a more realistic goal for 2017, as it is unable to anchor inflation hopes against the backdrop of the poor political conditions. Political scandals about widespread corruption are generating protests and opinion polls indicate that 66% want to see President Rousseff impeached. In spite of employing a succession of public spending cuts, Rousseff has been unable to prevent the economic crash that is stifling government expenditure, turning the hotly anticipated surplus for 2015, into a deficit. Many blame her questionable decisions on handouts, subsidised loans and costly tax breaks for bringing about the country's current alarming collapse. 
The government is also under pressure to reduce its level of debt that has risen to 65% of GDP. This debt may look minor compared to Japan's 227%, but Brazil's high interest rates of about 14% make borrowing more expensive. After the nation's credit rating was cut to junk, Brazilian companies that collected $270 billion in international debt throughout the prosperous years, see it getting dearer by the day. The price of sorting Brazil's debts is raising concerns that rates must be set to maintain it rather than to rein in prices, paying in to the cycle of a falling currency and rising inflation.
All of these issues have affected the Brazilian currency. The real has hit new lows this year and the sharp depreciation is adding to the inflationary pressures in the economy. The currency has lost two-fifths of its value against the dollar over the past year and this weaker local currency makes it harder to meet debt requirements, putting unlucky companies at risk of defaults and credit-rating cuts. With business and consumer confidence at their lowest levels on record – companheiros e companheiras – we have a problem. 
Brazil is the country of the future – and always will be.